Scroll down for English Version
Saison 2
Texte et photos Thierry Vincent - Tous droits réservés - All Rights Reserved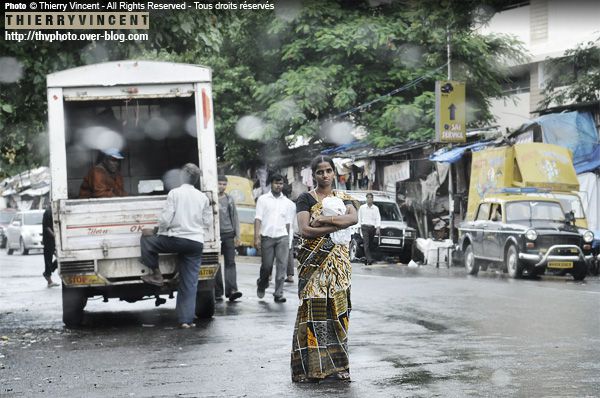 Retour éclair à Bombay. C'est la mousson. Ciel gris. Pluie tiède. Le canapé et le lit sentent l'humidité, le manche de ma brosse à dent pègue. Impossible de marcher dans la rue sans se faire arroser, soit par le ciel, soit par les véhicules qui roulent dans des flaques - qui ressemblent d'ailleurs plus à des mers intérieurs qu'à des flaques. Tout brille en permanence. Les feuilles des palmiers sont reluisantes, le bitume est comme huilé... Et la vie continue. Pour moi la mousson c'est un truc dingue. 80% d'humidité dans l'air, sans cesse faire gaffe où on met les pieds parce qu'entre la gadoue et les plaques d'égout absentes on a toutes les chances de faire une glissade et/ou un plongeon. Pour eux tout est normal. C'est comme ça tous les ans. La vie se déroule (presque) exactement comme d'habitude. On rajoute juste une bâche en plastique bleue sur le toit de la boutique et, parapluie ou pas, on est trempé en revenant du marché. Kay Karnar (qu'est-ce qu'on y peut) ? Mais les enfants s'amusent, la canicule est enfin terminée, la pluie lave le ciel, la terre et les rues et puis en irriguant les champs pour toute l'année elle fait pousser le riz et les céréales qui nourrissent tout le pays... Et le font vivre.

+ Photo Album Monsoon Feelings
+ Article Monsoon Feelings I
+ Article More Monsoon Feelings
English Version
Season 2
Text and Photos Thierry Vincent - All Rights Reserved - Tous droits réservés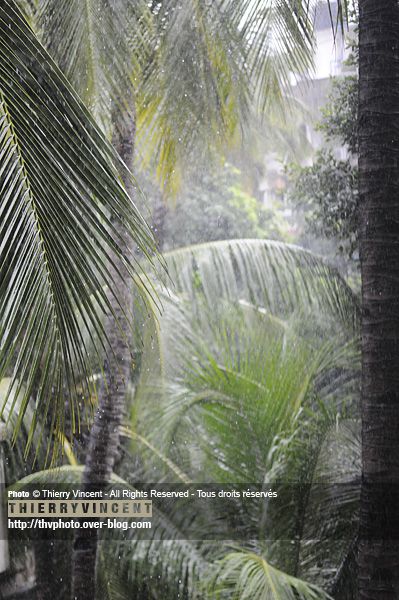 Back to Bombay for a few days. It is monsoon. Gray sky. Warm rain. The sofa and the bed feel like humid, the handle of my toothbrush is sticky. I am unable to walk the streets without being sprayed, either by the sky or by vehicles running through puddles - that look rather like inland seas than puddles. Everything shines. Palm leaves and bitumen glow as if they were oiled ... And life goes on. For me the monsoon is something crazy. 80% humidity in the air, I must always be careful where I walk because between slush and missing manhole covers I have every chance to make a slip and / or a dip. And for them everything is normal. It is the same every year. Life goes (almost) exactly as usual. One just adds a blue plastic tarp on the roof of the shop and, umbrella or not, one is always soaked when returning from the market. Kay Karnar (what to do)? But look at the children: they enjoy! The heatwave is finally over, the rain washes the sky, the land and the streets, and it irrigates the fields for the whole year. Then grow the rice and grains that feed the country ... And make life possible.

+ Photo Album Monsoon Feelings
+ Article Monsoon Feelings I
+ Article More Monsoon Feelings